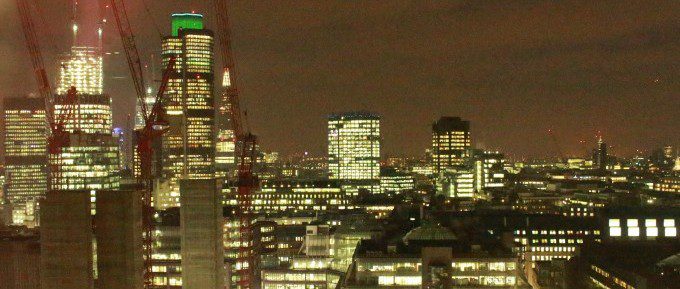 Richard Chambers, Olympic Silver Medallist, Team GB Rowing, Lightweight Fours.
Thursday, 28th February, 2013. Our second 'An Evening With….' and, this time, Richard Chambers held our audience enthralled as he talked about just how he and other rowers prepare for the most important moment of their lives, his rivalry with his brother, Peter, and just what life in the fast lane is like.
The evening was co-hosted by Pinsent Masons at their offices in the City. The view from the 15th floor is magnificent, as you can see from the picture above.
After short introductions by Claire Hughes, Partner at Pinsent Masons, and Andy, a video of the race was played. Even on my (approximately) 15th viewing, I still hope they'll win and cheer them on. Richard is a very down to earth, engaging man and it's only when he explains what sets champions apart that you realise what an extraordinary person he is. The mental ability to pass the point of your body telling you to stop and keep going to the point (occasionally) of blacking out is what makes an elite athlete. Dedicating 4 years of your life at a time to achieving the next pinnacle in your career is no easy undertaking.
Richard explained how the selection process works between trials in single sculls and seat racing and how, because everyone is in identical boats, it really is the best athlete who gets selected. Asked what the most important aspect of training – apart from being on the water – was elicited a surprising reply, recovery! If he doesn't recover quickly, he's not ready for the next round of training and then he'll fall behind. All the time, he is training to be stronger, faster, better. There is no standing still as the other teams will all be finding ways to improve and so must he. Some people were very interested in the concept of two breakfasts and a sleep in the afternoon ( not unusual for someone in the Jansons office). On a typical training day, Richard will take about 6,000 calories on board and none of those are stored as fat.
As the evening continued the questions kept coming, until Andy called a halt. Richard stayed a while longer, chatting individually with people and generously passed his medal round for people to hold. The first reaction, every time, was 'Wow, that's so heavy'. It is a magnificent trophy to have and the brothers' families must be so proud to have not just one but two!
Richard and Peter will be racing next in Australia in March, but if you'd like to watch them without travelling halfway round the world they'll be at Dorney in the World Rowing Cup on June 21st – 23rd. For more information about this event please click here. We'll be following their progress and cheering them on and they'll keep updating us monthly via these blogs.
Below are some pictures of the evening. If you think I took one of you that's not there and you'd like a copy, please leave a comment below and I'll send it to you. Your email address will not be published.