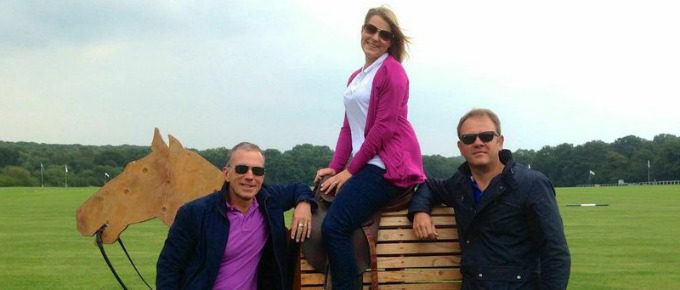 The Association of Women in Property (WiP)and Young Entrepreneurs in Property (YEP) (more on them later) held a polo event at Hurtwood Park Polo Club last week. Just to change things around from the norm, Lynda took Andy and Michael along as her guests, a pleasant swapping of roles for all of them.
As usually happens on a Jansons day out, the rain held off despite the skies being overcast. In all, twenty four people attended, who were split into three groups of eight. Each group attended three stands in turn, learning different skills at each stand.
Stand 1 – mounting a wooden horse, learning to swing the mallet and hit a ball. Michael's not looking too comfortable there!
Stand 2 – Ball hitting practice.
Stand 3 – Not really a stand but actual playing!
Ahh, Michael looks a bit more comfortable there, though he'll insist he was still working! Or has he just fallen off?
Women in Property's aim is to increase the number of women working in the property and construction sector, only 15% at present, and to help those already in the sector by networking and mentoring. Young Entrepreneurs in Property is a networking organisation providing a voice for future leaders of the industry. They both hold frequent events for members and guests and their details can easily be found online.