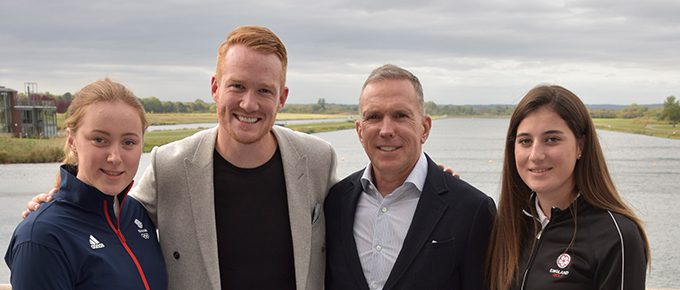 Dorney Lake, Friday 12 October: Thalia Kirby, 17, a golfer from Marlow in Buckinghamshire and Ceara Barber,16, a swimmer from Gerrards Cross have been awarded £1000 each by long jump Olympic medallist Greg Rutherford, on behalf of the Bucks SportsAid.
Created in 2011, the club is a way for local individuals, businesses and trusts – who want to support young, talented athletes in Buckinghamshire – to raise money to help with training, travel or equipment costs.
Thalia and Ceara were selected by their national governing bodies to receive grants after their impressive start to their sporting careers and their dedication and commitment to training.
Thalia has an intensive training programme involving strength, conditioning and range practice at Stoke Park six days a week. The award comes after being selected for the England national girls' golf squad for two years running.
Ceara, who is part of Wycombe District Swimming Club, trains for up to 21 hours in the pool and commits to four hours of land work every week.  This includes four weekday morning sessions which start at 5.20am. Her commitment and perseverance are paying off after she was chosen to represent Team GB at the 2017 European Youth Olympics in Hungary.
Thalia explains what the award means to her:
"This award has given me a huge boost and has spurred me on to not only beat my brother at golf, but to reach my goal of becoming a professional golfer and participating in the LPGA tour someday. It also shines a light on women's golf which is becoming more popular but hopefully this will encourage even more girls to get involved in the sport."
Ceara describes how she feels about winning:
"I am thrilled to win this award. It makes all the training and competing for many years at county, regional and national level all worthwhile. Watching Michael Phelps at the 2012 Olympics made me decide that I would like to represent my country at the Olympics. I'd like to thank my coach Kevin Brooks as he motivates and encourages me every day."
Thalia's award will help to cover the cost of travel and accommodation for the forthcoming golfing season. Ceara's grant will help to buy a much needed training kit, racing suit and travel and accommodation when competing at national events.
Andy Jansons said:
"Huge congratulations to Thalia and Ceara. Their awards are thoroughly deserved and I look forward to monitoring their progress as they compete on the international stage in the future."
Headline speaker at the lunch club was Greg Rutherford, who won a gold medal for the long jump on Super Saturday at the London Olympics in 2012.
Greg Rutherford commented:
"I know how tough and lonely training can be, especially when your friends aren't involved. It's also hard to fit in around your school work and social life. But Thalia and Ceara's attitudes are hugely inspiring for anyone thinking about getting involved in sport – their commitment speaks for itself.  I'll be rooting for them in the years to come."