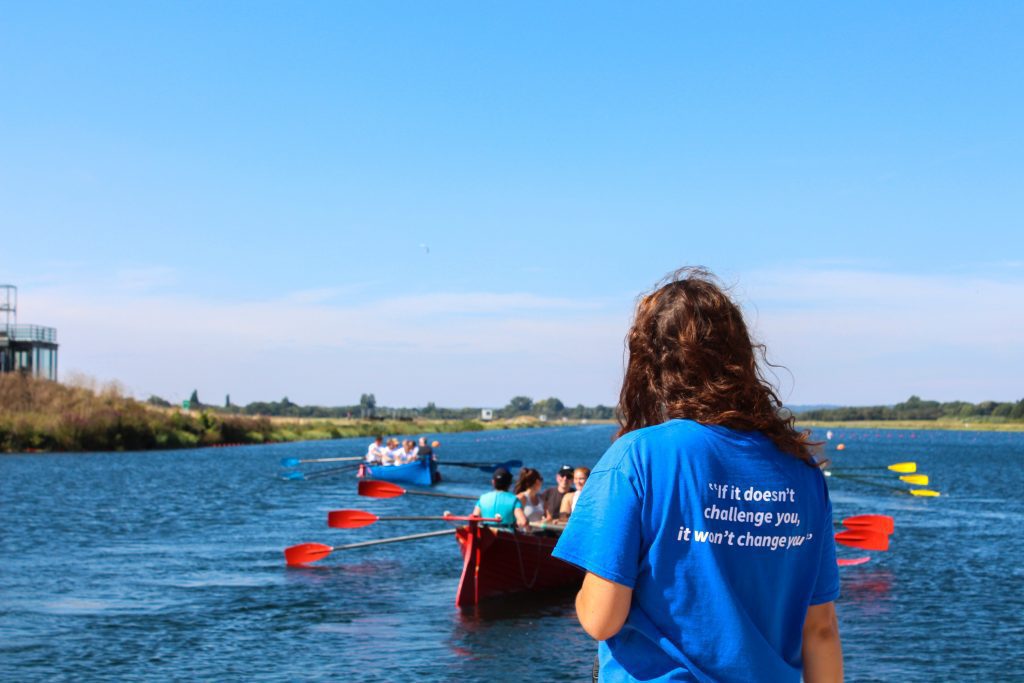 The sun is shining, the word heatwave is on Twitter's trends and the Jansons team skipped a day at the office. And if that doesn't sound like what Wednesdays are made for, I don't know what would.
After a couple of cancelled events -due to those so-called unprecedented times-, nine teams of rowers met yesterday at Dorney Lake, sharing the same excitement about competing against each other, having fun and seeing some old friends -or making new ones-!
In the home of the rowing and kayak events at the 2012 Olympics, the teams were welcomed by the venue's staff, who gave it everything to make sure our rowers did not end up in the water prematurely!
Back in the commentary box, the nine teams of six rowers and one cox had a long and exciting day to make it to the awards ceremony. The race consisted of the heats, followed by the semi-finals and the big final. The guests and spectators who were enjoying the view from the lake viewpoint saw from the heats that some of the teams competed with a really strong desire to get the trophy back home. Anderson HollandGreen, Bird & Bird, Blaser Mills Law, Doone Silver Kerr, Haslams, Flourish PR, Ridge and Partners, Strutt & Parker, and the hosting team, Jansons Property, offered good fun and some amazing rowing times (hint: Anderson Holland Green did an amazing 90'' time in the final).
The big winners of the Jansons 2021 Rowing Cup were the rowers of Anderson HollandGreen, with Ridge & Partners getting the silver, and Jansons sharing the third podium step with Doone Silver Kerr.
The so desired (or maybe not) "Crabbing" award was given to Strutt & Parker, who may have finished last but displayed the most heart. A last-minute addition was the ''Best Dressed Team'' award that went to the Doone Silver Kerr team (aka the Dolphins), who got in the boat wearing dolphin full-face masks.
All the great rowers, guests and spectators enjoyed dinner at the end of the race, marking the end of a fantastic day spent networking and rowing.
With all the proceeds going to Myocarditis UK, we feel humbled by both competitors' and guests' support and donations. These will support the funding of research into the causes, prevention and cures of Myocarditis.
For those who really wanted to bring it home today but didn't, we will see you soon! Until we meet again, there is plenty of footage and photos of you in action below, with more to follow:
Default Gallery Type Template
This is the default gallery type template, located in:
/var/web/site/public_html/wp-content/plugins/nextgen-gallery/products/photocrati_nextgen/modules/nextgen_gallery_display/templates/index.php.
If you're seeing this, it's because the gallery type you selected has not provided a template of it's own.
More content from the event in our Instagram account! Use #Jansonsrowing, tag us and let's share the fun!