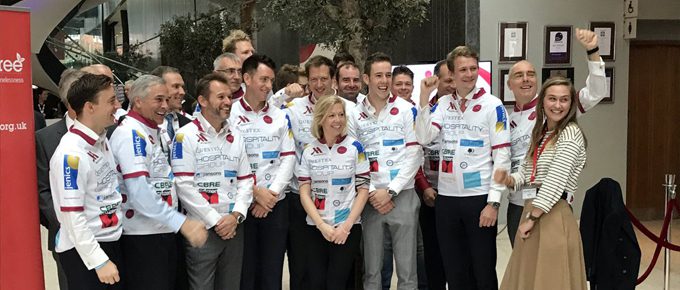 Andy Jansons, Ben Roberts and Saar Sharon drove the support vehicles for the riders, encouraging and cheering them on their way.  It was a gruelling 2- day challenge that raised over £8000 (and still rising) for  www.alexanderjansonsfoundation.org and www.mustardtree.org.uk
You can still sponsor the team at http://uk.virginmoneygiving.com/team/GHBR2AHC2017
Introduction
The Great Hotel Bike Ride is the brainchild of Aleksander Johansen from Somerston Capital. The Nordic Viking who is a keen cyclist, runner and cross-country skier thought the idea of taking the train to the AHC conference was far too easy and so decided to get a group of friends together to test out whether the route was doable by bike. The answer was yes and then some. The 220-mile ride ended up being a fantastic experience for everyone involved and raised thousands of pounds for hospitality charity Springboard.
Now in its third year, Aleks was keen to invite as many people as possible to join him on the ride to not only raise even more money for charity, which this year includes Alexander Jansons Foundation and Mustard Tree, but share the fulfilling experience of the ride.
The event is also now a key part of The Annual Hotel Conference and is timed to coincide with the beginning of the conference. And as everyone on the ride is associated with the hotel industry and its wider network, it is a great opportunity to establish new, and grow existing, relationships in the sector.
The organisers expend a great deal of effort in organising the event and a  great deal of cash will be raised through sponsorship, we do ask that each rider raise at least £100 for charity. Aleks will be ably assisted in the organisation this year by CBRE stalwarts Joe Stather, Dylan Burke and Ben Livingstone.
All riders assembled at the start point very early 0545 with a set off time at 0700. Thank you to the Renaissance St Pancras for preparing some delicious pastries and coffee/tea for the entire team.  The route escaped London heading due north, picking its way between the commuter towns of St Albans, Luton and Stevenage. Carving through the rolling hills of Northamptonshire and taking a subtle change in course, the cyclists then navigated the UK's industrial heartland – skirting Rugby, Leicester and Burton-on-Trent.
Derbyshire was the largest challenge to weary legs as the cyclists attempted  to tame the Peak District's prehistoric landscape and unpredictable elements – climbing to a height of 399 metres above sea level. The descent into Stockport provided a brief respite before the final run-in to Manchester and the finish line at the foot of the iconic Beetham tower.