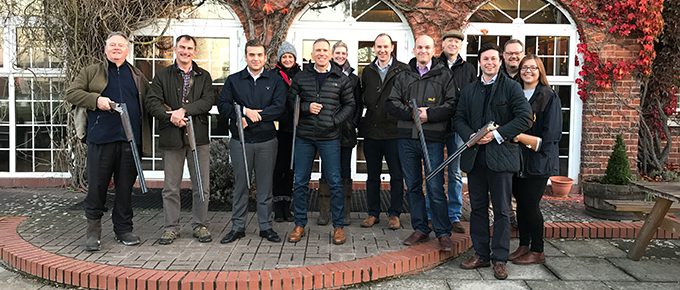 Jansons have now been shooting at the West London Shooting School for more than 13 years having an average of seven mornings per year. On very rare occasions there are some high scorers competing for Top Gun and there was one of them.
Top Gun went to Richard Dawtrey with an impressive score 41 we must, however, mention Nick Johnson and Richard Dawes who both scored 39 and were not far behind.
And finally, the winning team was Huw Williams, Ollie Brittan and special guest Charlotte Laidman-Garret who recently joined Jansons. The winning team was decided on the flush and this was very tense as had a draw between Huw's team and Andy Jansons team. Tensions mounted as we had a shoot off, Simon Guest stepped in for Andy and Ollie Brittan for Huw. Ollie came up trumps and took the lead (and bagged the champagne.)
A brilliant competition and to top it off the sun come out and warmed us all up! Everyone headed back for breakfast and then went on their way. A great final shoot of 2017!