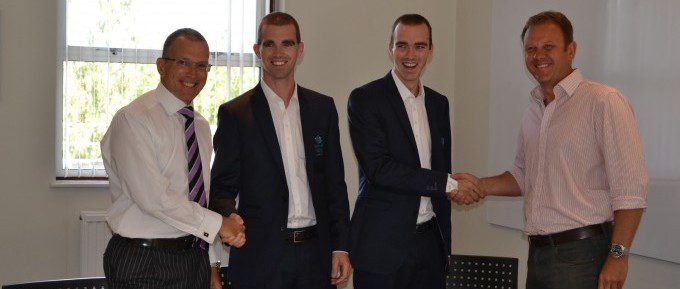 Hello readers, here's the latest in our series of monthly blogs from the Olympic Silver Medal winning rowing brothers, Richard and Peter Chambers. This month it's Peter's turn:
Hi everyone,
I would firstly like to say how fantastic the evening we had at Jansons on the 4th October was. It really was excellent to come and share my Olympic experience as it was one of my first major talks.  I really enjoyed sharing the ins and outs of what we do each day, and to do this with such an interested crowd really was fantastic.
We have been back to training for a around a month now.  To be honest, for the first week I was delighted to be back and ready to crack on, however that soon wore off and I was struggling to get going after the "honeymoon" period. Thankfully I'm now really enjoying training again and have discovered lots of motivation to get cracking. We have winter assessments/trials and the Fullers Fours Head of the River race to look forward to and get training for.
As a squad we have been allowed to train and race with our clubs. We raced two weeks ago at the Jubilee Regatta. I was representing my club, Oxford Brookes University and we came away with a 4th place in the men's 8.  We had a great race and a great build up to the race. It was very enjoyable and giving back to the club is so important.  Sharing your knowledge with the up and coming guys is the best way to help and move the sport on at a club level. Having the Jubilee regatta in October caused some controversy with it being maybe too early in the season, but I personally think it's a great time to have it.  We should be doing more and more events like it as it's a great way to develop our own racing skills.
Off the water I've finally reach my last stage of university.  I have enjoyed being back as it is nice to have something to do on top of rowing.  Feeling like a student again has been fun, the only thing I'm not looking forward to is all the written work required!  However, I know it's all part of it and I just have to get on with.
Finally, I also now have a pet rabbit, he's called Eskild and is slowly adjusting to life in a house!  He's named after the lightweight rowing legend from Denmark Eskild Ebbesen, who inspired me for years and has been to 5 Olympics, what an athlete!
A lot's going to happen between now and when I next write, I look forward to telling you all about it in December.
Peter.
Thanks Peter, we look forward to finding out all about it.
If you have any  questions you'd like to put to Peter or Richard, please fill in the comments box below. Your email address will not be published.