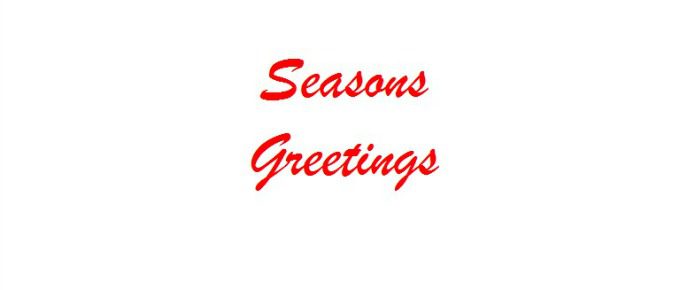 Hello readers! Welcome to the last Jansons Property  blog of 2014. It seems a good time to have a quick look back over 2014 before we look forward to 2015.
At the start of the year, the brave Brighton Belles, Emma Cordell, Ella Ray, Gemma Fricker, Rosanna Munday and Sammy Munday, took part in the Brighton Half Marathon, raising funds for the Alexander Jansons Foundation. This was just the start of fundraising for the year, the £80,000 target looking a long way off at this stage.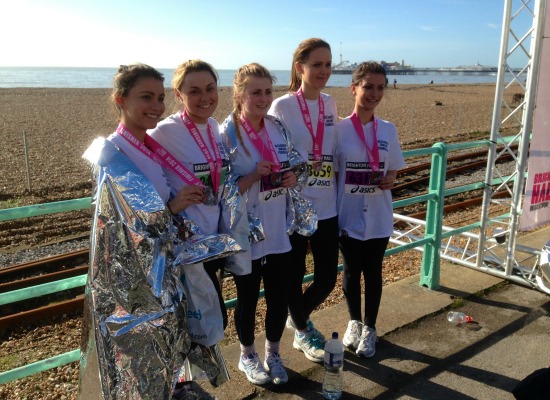 Another early highlight was the completion party for SoCo, Jansons' major hotel/ retail build in the centre of Edinburgh. Over 100 guests attended and were given tours of the already open hotel. Sainsbury's and Costa Coffee were also up and running, a great advert for Jansons' expertise in pulling large projects together.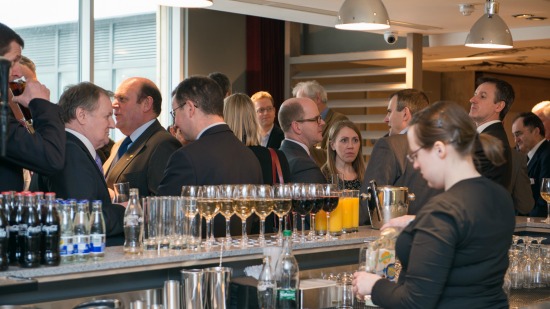 Every year, Andy and other property professionals head to Cannes for MIPIM, probably the biggest property networking event on the calendar. Lynda accompanied him and they both enjoyed some early sunshine and lavish hospitality.
No year is complete without the legendary Jansons Clay Pigeon shoots, held at regular intervals throughout the year. Our first Top Gun of the year was Robert Hibberdine, followed by Tom Bridgeman, Giles Hastings, Nick Finn and Steve Jones. We would usually have seven shoots, but two were donated to charity.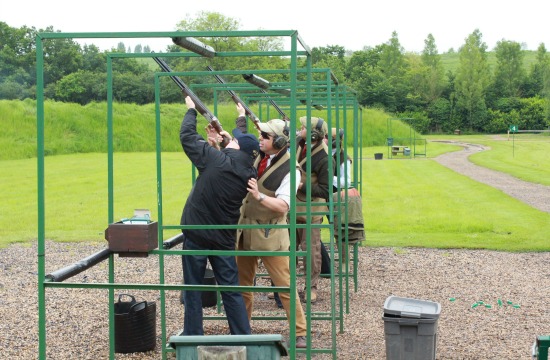 A new networking initiative, introduced by Andy in April, was The Agents Breakfast. Each time, a few local colleagues were invited to Jansons Beaconsfield office to share a hearty breakfast and renew contact with others. Also in April, Jansons announced they would be sponsoring the Industrial and Logistics Property Consultancy of the Year Award at the Thames Valley Property Awards. The Thames Valley is our core area, so these are important awards for us to be part of. The event was held at Ascot Racecourse and the winners of our sponsored award were Jones Lang LaSalle.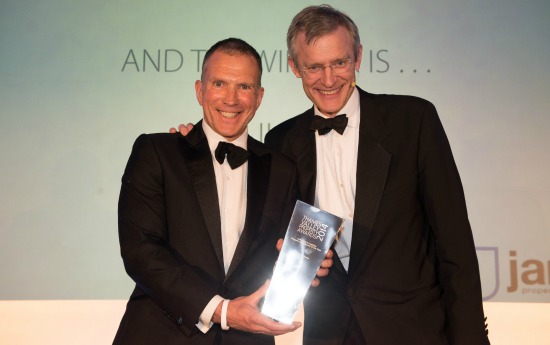 Jansons also sponsored an award at the Pride of Bucks Awards. The  "Alexander Jansons Young Peoples Awards (18-25)" was an obvious choice for Andy and he and Patricia were among the judges for this. Angharad (Hari) Birtles was chosen as our winner.
As well as attending to business with monthly trips to Edinburgh, Jansons also take the opportunity each August to enjoy the Edinburgh Fringe Festival. It's a unique event with something for everyone. Many of our Scottish colleagues were entertained with a few shows and a good meal.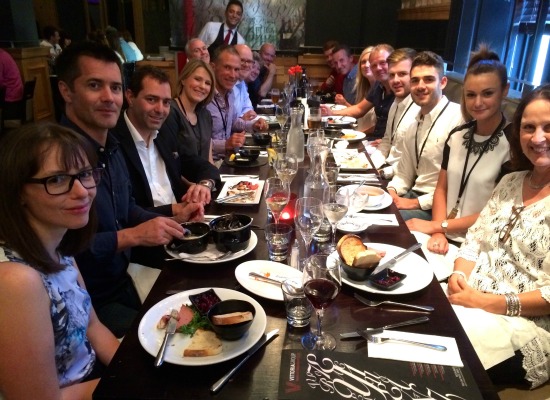 One of the other Edinburgh projects, the Ibis hotel at Edinburgh Business Park reached completion and is successfully running.
Another fundraiser for the AJ Foundation was Andy's Facebook Challenge. He pledged that, if the AJ Foundation Facebook page reached 1,000 likes (that's quite a feat, try it), he would wear a comedy wig to work for the day. Needless to say, the target was reached and the result is below. Luckily, most of the people Andy was meeting were forewarned and more amused than shocked.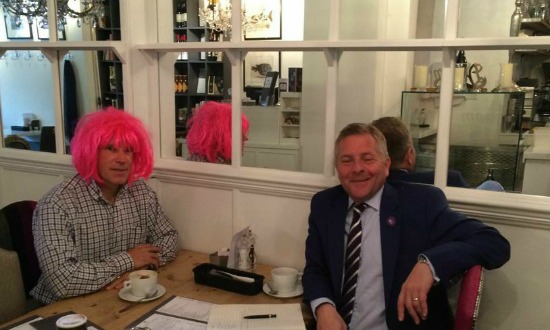 Fortunately arranged for another day, Andy went to a breakfast and met the guest of honour, the Latvian Prime Minister, Laimdota Straujuma. Andy's family originates from Latvia and he is keen to forge links there.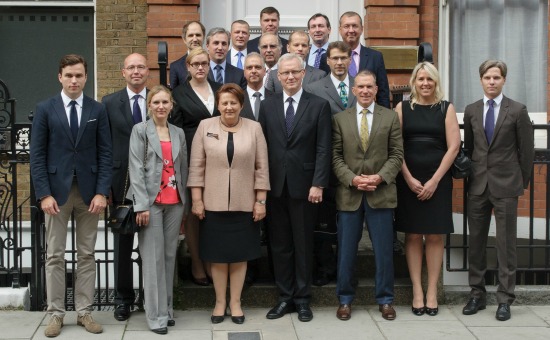 October brought great news that planning permission had been approved for the site in Basingstoke Road, Reading. Keep your eye on this blog next year for updates on progress there.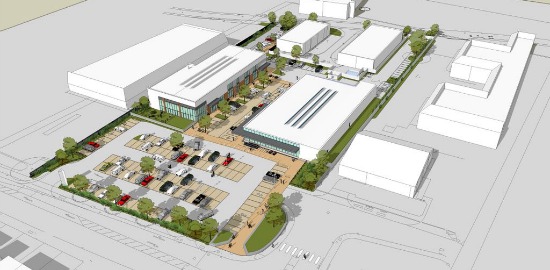 This was closely followed by gaining approval at the Peach Street, Wokingham site. This is another site that will be greatly improved by redevelopment. Again, updates will be posted here throughout next year.
Two more events concerning SoCo were held. The first was a Tea and Cocktails afternoon including a charity auction. John Shepherd was the auctioneer, assisted by Louise Hazelden, who sportingly undertook the icebucket challenge afterwards. Proceeds went to the AJ Foundation.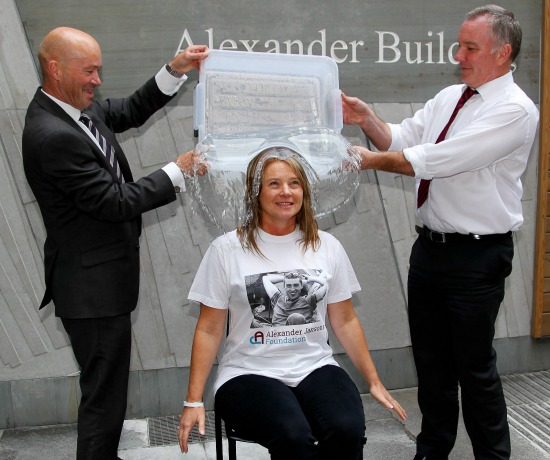 The next event was the European Hotel Design Awards, held in London. SoCo was shortlisted in the Architecture (New Build) category and was the only UK hotel to be shortlisted. Our architects, Ica, did a fantastic job on a difficult site and there are amazing views from many parts of the hotel.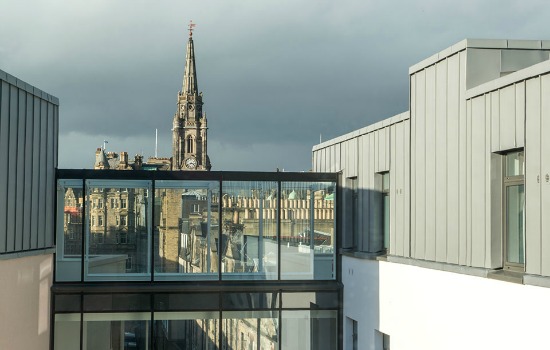 The big news for the residential property market this year was the reform of the Stamp Duty Land Tax. The changes have given the bottom of the market a boost, which should permeate upwards through the whole market, though those at the top may feel a bit of a squeeze for a while, until they get used to it.
Rounding up the year was another networking event, the 100 Property Club's 99th Dinner. Again very well attended, Jansons hosted a table and received a cheque from the 100 Property Club for £1,500 for the AJ Foundation. This was a lovely gesture as their nominated charity was Lord's Taverners.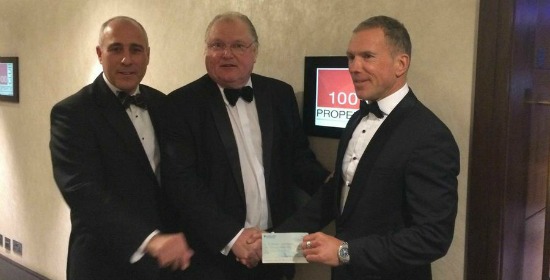 The final total for this year's fundraising for the Alexander Jansons Foundation will be announced soon, keep an eye on their page for news. And don't forget to keep coming back to this blog page for more news. 2015 looks as if it could be a big year for Jansons and we wish all our fellow property professionals a very merry Christmas and a happy and prosperous New Year.