The Date : Thursday, 29th November.
The Venue : The Brewery, London
The Occasion: The Bobby Moore Fund/ Cancer Research Celebrity Sports Quiz
The Jansons Team: Andy Jansons, Jeremy Hill, Steve Fry, Rob Ryan, Richard Chambers, Russell Smith, Kate Aitken, Matthew Clarke, Tomas Jansons, Shaun Wolfe.
The Mission: To come in the top half of this razor edge competition.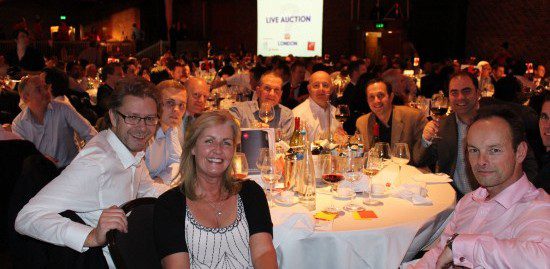 Mission accepted, the team gathered at The Brewery, London, for the 14th edition of this prestigious and hard fought quiz. The evening had a dual target:
1. to raise money for research into and awareness of bowel cancer and
2. to have fun competing with about 400 other people to win.
Stephanie Moore, widow of  Bobby Moore OBE, has campaigned tirelessly since his tragically premature death to raise awareness and money to help prevent others and their families suffering as she and her family did. If detected early enough, 90% of bowel cancer patients will survive the disease for more than 5 years. The research relies entirely on fund raising through public donations and events such as this.
Many sporting celebrities attended the evening, including a good few Olympic heroes. We had stealthily co-opted Richard Chambers, one of the Olympic Silver Medal winning rowers Jansons sponsors, onto the team along with his manager Steve Fry. Also attending were television personalities such as Jeff Stelling, Claire Tomlinson, Max Rushden, Kelly Cates and the Quizmaster supreme, Clive Tyldesley, who set the questions.
The quiz was conducted throughout the evening, interweaved with a very good three course dinner, a silent auction and an open auction. Matthew Clarke bought a pair of boots signed by Sergio Aguero, one of his Manchester City heroes, and Shaun Wolfe nabbed a Steve Perryman shirt.
The questions were, on the whole, tough, and we had a fairly dismal start. Things picked up as we got onto Richard and Steve's top topic, The Olympics. This was their favourite question: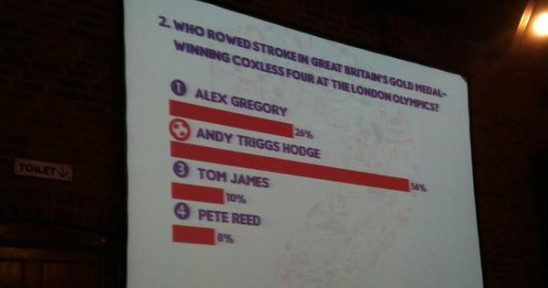 At one point we reached the dizzy heights of 7th, right up in the Premier League, but eventually slipped back to 12th, in the Championship but well in the top half of the 40 teams entered, so our mission was accomplished. The Bobby Moore Fund raised over £240,000 on the evening and were happy with their result too. Win Win, just how we like our deals.
Our thanks to everyone who attended, it was a fun evening and Jansons will be back next year, hoping for an even better result.