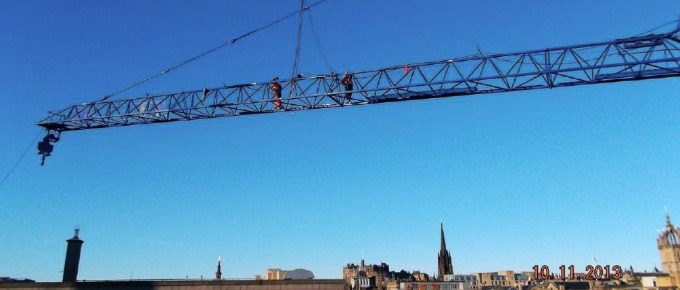 With our SoCo Development due for completion early December – the end is nearly in sight.
Work is moving at a rate of knots at our SoCo development now since our last blog. Externally everything is looking good with the plant installation to the Southbridge Roof now complete. The tower crane is now being dismantled and you can see is  being loaded onto transportation on Chamber Street.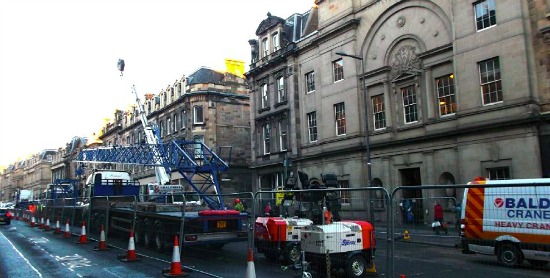 The hard landscaping work has commenced to the footpaths, which is using lots of manpower. Internally the building is progressing just as fast with the finishing touches being put on the linking bridge.
Majority of all the rooms are now completed with snagging and cleaning taking place imminently. The corridors have now had their carpets and roof tiles installed and the hallways have been skim plastered. The development is excitingly coming along fantastically.
Finally as I had previously blogged regarding the sculpture (http://jansonsproperty.com/new-arrival-at-soco/)  it has now made it to its place of residence on the Level 3 Terrace.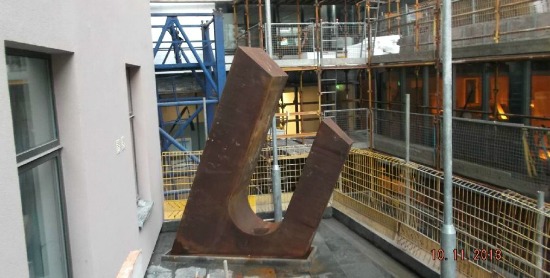 Keep checking, as the next blog should be the completion of the development.