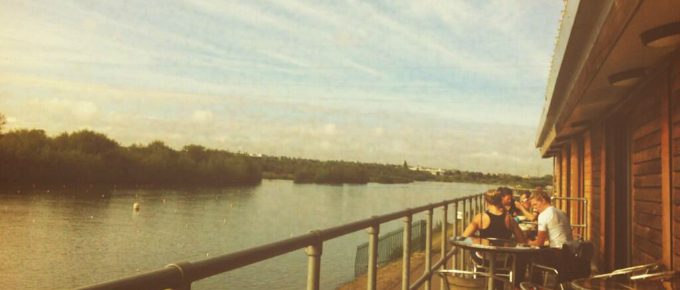 Here's the latest blog from Richard, one of the Olympic silver rowing medal winning Chambers brothers. His picture of a hard day at the office is enviable, but I suppose it's difficult to take pictures when you're actually rowing so we'll let him off. Anyway, over to Richard.
May has been a long month, with a lot going on.  GB Rowing formal trials finished at the end of April.  Peter performed well, winning overall in the lightweight men's category.  He put in an outstanding performance in the single scull over 2000m which truly showed what a class act of an athlete he is.  I didn't perform so well.  I finished third in the event with Adam Freeman-Pask coming in ahead of me in second.
 This is never a fun time of year.  We are all good mates but essentially we are trying to beat each other to prove who is the best.  It's not really what we do the training for.  We train so that we can race the best from other countries.  We train hard because we want to prove we are the best in the world at what we do.  However I do see the importance of competition within our own team.  Its important for us to be driving each other on to be faster and stronger which in turn will help us to perform better on the world stage.
The competition within the lightweight men's team is fierce, which can only bode well for producing good performances at International level.  Further testing was completed in house to determine which athletes would be selected for each crew.  Crew announcements will not be made until the 5th June. Peter and I will bring you a special blog during that week to let you know which crews we are in and how our preparation is going for the second World Cup at Eton Dorney on the 20th June.
 Testing is over and we are getting on with training.  Plenty of mileage on the water, hours on the rowing machine and weights lifted in the gym.  This is the basis of our performance.  I love the training each day although the next morning doesn't feel quite so great!
The training saw a welcome break with a garden party at Buckingham Palace.  Not your average Wednesday afternoon but a great experience.  A chance for Peter and I to take our mum and my wife Abi to the palace.  The grounds of the palace are stunning and provided a perfect setting for such an event.  The sandwiches and cakes where incredible and Peter and I made sure we tasted most things.  We didn't get the opportunity to speak to Royalty but saw them from a distance.  However mum and Abi made sure they got a close look at Kate and the 'royal bump'.
The world cup at Eton Dorney is coming at us quick and so we are putting in every effort to perform well in front of a home crowd.  In our next mini-blog you will be able to find out which crews Peter and I are in.
Well done to both Peter and Richard in training, we're looking forward to hearing which teams they'll be in for the World Cup. If you'd like to go along and watch them row at Dorney, click here to find out all about the event. I do hope Peter didn't take his own lunch to the Garden Party in that back pack.