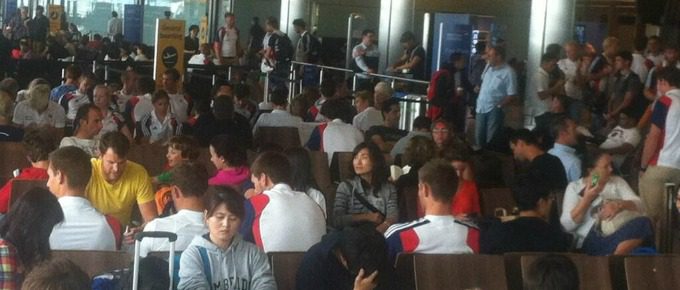 Richard and Peter Chambers are back from the Rowing World Championships, their last competition in their first season in a new discipline, the lightweight double sculls. Above you can see the mass of red, white and blue as the team wait to leave Heathrow airport. Here's Richard's report of their Korean adventure, though he doesn't mention the entertainment from the Korean version of the Spice Girls.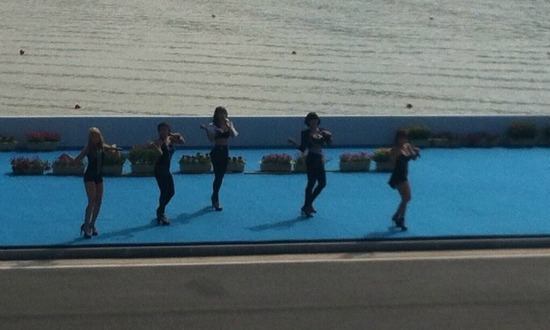 That's another season over.  London 2012 is a long distant memory and we are well on the 'Road to Rio'.
Having spent all of my senior racing career and 2 Olympics in the Lightweight Coxless Four I decided that I wanted to take on a new challenge for the 2013 season.  And who better to have a similar idea and have a similar mindset but my brother – Peter.
From the outset of the season both Peter and I stated our ambition to row in the Lightweight Double Scull together for 1 season.  We were searching for a new challenge, something that was very different from the coxless four.  Our challenge: to be World Champions in the double scull.  This in itself is a huge ambition but the process to get into the double was a very tough challenge.  With a strong Great Britain lightweight squad we had to fight our way into the boat.
By reading the blogs from Peter and myself in the past year you can see a clear picture of how our season was shaping up.  The finale of our season was the World Championships in Chungju, South Korea.  It was an incredible venue for a World Championships, which was delivered well by very friendly and helpful group of volunteers.
The racing at the Rowing World Championships is spread over 8 days unlike the 3 days set aside for World Cup Racing.  Peter and I both raced on the first day of competition in our heat and we won that comfortably.  However we were unhappy with how we delivered our performance.  So with a 4-day break until our semi final we continued to try and find more boat speed and a more efficient way of moving the boat.
The semi-final presented us with stiff competition coming from Norway, Germany and The Netherlands.  We put together a solid race winning it with a small margin over Norway.  The other semi final was won by Switzerland.  The final was shaping up to be a cracking race with Germany, Italy, Switzerland, Norway, Greece and Great Britain.
Going into the final Peter and I were confident of our ability but in no way underestimated the final challenge ahead of us.  Our race started off well.  We jumped out of the blocks, pushing our bow just in front of the field with in the first 10 strokes.  Whilst we started to move into our rhythm which would carry us down the course Italy maintained the highest boat speed until the half way mark at 1000 meters.   Italy was approximately 1.5 seconds ahead of the rest of the field at this point.  Peter and I started to close the gap during the 3rd quarter of the race and by 1500m we were marginally in the lead.  Four crews (Italy, Switzerland, Great Britain, Norway) were now fighting for that top spot on the podium.
Going into the last 500 meters of the race your body is screaming at you to stop and your lungs are gasping for more oxygen but you have to keep going, pushing harder and looking for more boat speed.  Peter and I led the field but Norway had the quicker boat speed at this point.  Norway passed with 250 meters to go.  Working harder and harder to maintain boat speed Switzerland came through us and it was a fight for us just to stay ahead of Italy.  At the finish line Norway became World Champions 1.5 seconds ahead of Switzerland who were 0.5 seconds ahead of Peter and myself.
We had won the bronze.  It would be true to say that both Peter and I were disappointed.  However we were pleased with how we raced and made sure we left everything on the racetrack.  We went for the win but were beaten by 2 crews who were quicker than us on that day.  In our first season in a new boat class and new discipline we come away with a bronze – 3rd in the world.
The challenge for us this season was to race in the double scull.  We wanted to push the boundaries of what we were comfortable and capable of doing.  We both know that we got this and much much more.
To win in the lightweight coxless four at Rio is a long-term dream of ours.  The 2013 season is one that will be a big step and huge learning curve towards that ultimate goal.
Peter and I would like to thank those who have supported us but especially to Jansons Property for their continued support through out this year.
Thank you.
Thanks Richard. I watched the race and (almost) felt your pain in the last 500m. To be third best in the world in your first attempt is amazing – it would be interesting to see how long it would take you to reach the top but I know you're heading back to the lightweight fours. You deserve every single one of those 6,000 calories a day. We'll be following your progress closely.