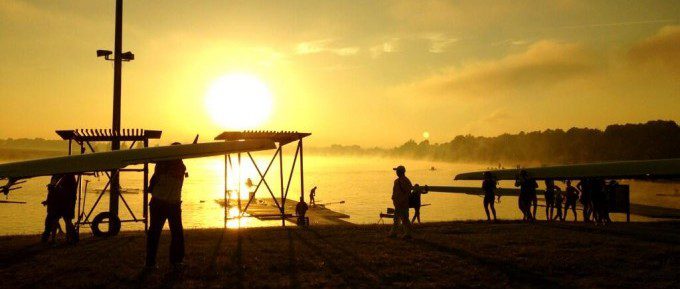 This month Richard Chambers fills us in on the 'hardship' of World Cup Rowing in the Australian sunshine.
The month of March has been very different for both Peter and myself.  We have spent most of it in the warmer climate of Australia.  This year World Rowing decided for the first time to hold the Rowing World Cup down under.  Normally we compete in Europe, and the Asian and Oceania countries make the long haul trek to us.
I'll be honest, I am a real geek for planes.  I love flying and I love watching different types of aircraft.  I think this stems from my love for building different Airfix models when I was younger. The Spitfire was always a favourite.  So the chance to spend 24hrs on an aircraft didn't bother me.  Since it first came into operation in 2007, I have always wanted to fly on the Airbus A380, it has always fascinated me – seriously, how does it get off the ground?  The flight out to Australia was mainly spent sleeping and watching as many movies as possible.
Our first couple of days were spent in Sydney training out of the Sydney University gym.  This also allowed us the chance to acclimatise and explore Sydney.  For Peter and myself that meant we went to the beach each day and attempted surfing.  The East coast of Australia is stunning with amazing views and amazing beaches.  I grew up living near to the beach in Northern Ireland so it was great to get back to the coast for a while.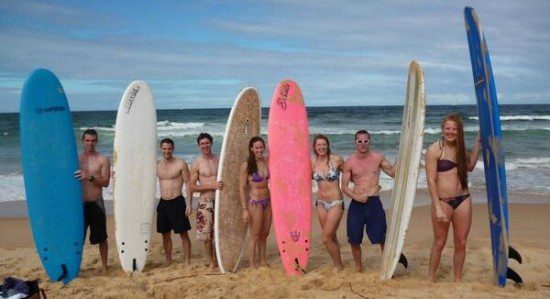 Before racing commenced we spent 10 days in Canberra for our training camp, which helped us prepare for the World Cup.  For this first World Cup of 2013, Peter would be racing in the coxless four and I would be racing in the double sculls.  This year I have decided to move across to the double sculls, which is a different boat class from the one I've raced in for the last 6 years.
I decided to make the switch for now in order to take on a new challenge.  I'm hoping that I can learn something new from a different boat class, which I can then take back into the coxless four. My rowing partner in Sydney in the double scull was Adam Freeman-Pask.
The racing was fun.  It wasn't the strongest field as not all European countries attended but in the doubles we had the crew from Portugal who came 5th at the Olympics last year.  Adam and I had a very simple aim: get out of the blocks as fast as possible and keep going until we get in front.  After that it was about trying to stay in front.  The race went to plan.  We flew out of the blocks and we sat out in front of the field until the finish line.
That may seem very simple and easy and not every race plan quite goes like that, but for this time of the year it was important for us to keep things simple and just see what boat speed we could create.
It's now good to be back home.  Abi and Joshua came to meet us at the airport.  Somehow I don't think Joshua realised I had gone.   Beating the jet lag is hard work and it has meant some really 'forced' early mornings.  Training is back up and running again and now we are preparing for our final set of trials.
Sydney is over and now we must start preparing for our next World Cup at Dorney Lake in Eton.  Tickets are on sale, so do come and watch!
Richard, unassuming as ever, has not emphasised their excellent results. Peter, with only one other team mate from the 2012 Olympic lightweight fours (Chris Bartley), won a silver medal, fantastic for a new team who have hardly rowed together! Richard, who by all accounts hates double sculls and hates being stroke, lead from start to finish to win gold with his new team mate, Adam Freeman-Paske.