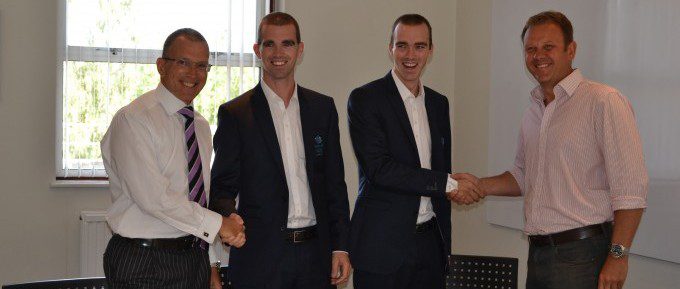 This morning at 10am, the results of all the training that Richard and Peter have been doing were announced. Richard has written us a blog, as follows.
Double Trouble
So it has been confirmed. The results of final testing mean that Peter and I will row the double and Adam and Will, who have pushed us very hard, will race in the lightweight four alongside Chris Bartley and Jono Clegg. Racing is only two weeks away but the specific crew preparation has been building for the last five weeks.
Due to the extensive amount of testing we missed a large block of training, so it was important for us to get in some consistent long mileage on the water and rowing machine.  From the word go Peter and I were able to set up a comfortable level of sculling which allowed us to then work on the finer technical points of making the boat move faster.  Getting new crews up and running is not always easy and can take a lot of work but this is something Peter and I were able to do quite quickly.
Since coming together our training has been very consistent and we have both made some big steps in our strength and physiology.  We are both feeling fitter and stronger and this can only put us into a stronger position going into the World Cup.
Our goal, of course, is to win this World Cup at Eton Dorney. However, we are very realistic about our competition. The standard of any event at International level is very high and we know we will have strong competition from France, Norway and Netherlands who won gold, silver and bronze respectively at the European Championships.
In Peter's next blog in July you'll be able to find out how we got on and what we are learning from our racing.
Jansons wishes Richard and Peter the best of luck at the World Cup Rowing at Dorney, which is on the 21st – 23rd June. Tickets are available, please click here for details.