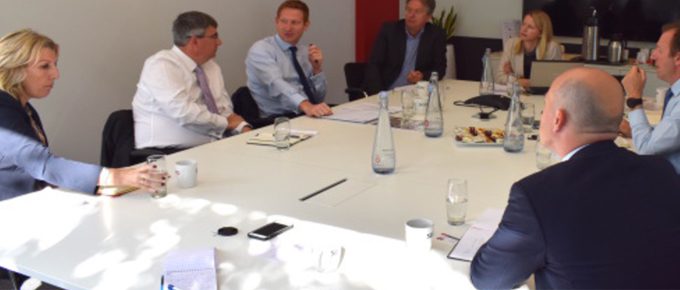 Industrial developers need to overcome the sector's image problem.
In the second of three reports from a round table debate among experts in the industrial sector organised by Thames Valley Property and held at the Slough headquarters of Segro on Tuesday, July 4, delegates voiced concerns that few councils understood it was now modern and hi-tech.
On the panel were (clockwise from left in main image in part 1):

Karen Thomas, partner, national logistics and industrial, Cushman & Wakefield
Paul Lewis, regional director Thames Valley & data centres, Segro
Mike Righton, Thames Valley managing partner Rider Levett Bucknall
Hugh Blaza, managing partner, BrookStreet des Roches
Annette Smith, sector director of transport planning, Systra
Tim Burden, director, Turley
Matthew Battle, managing director, UK Property Forums (chair)
Andy Jansons, managing director, Jansons Property
Richard Dawtrey, partner, commercial property investment, Vail Williams
One perception issue was raised by Annette  Smith. Systra helped devise travel plans and she explained how planning applications for warehouses generating traffic would be harder to get through.
"What we do is try to work with occupiers and people who are going to market sites to make sure there are travel plans and there is co-ordination so that they might share deliveries, so there is consolidation of freight deliveries. We work a lot on that basis."
In Oxfordshire the hi-tech and biotech companies were spinning out from the university but Mr Dawtrey warned it was not a model that could work in other areas.
Furthermore a lack of space was contributing to Oxford's problems and its industrial developments were dated.
Mr Blaza said: "I get the feeling industrial in Oxford is getting left behind. You go onto some of those industrial estates and they are pretty grotty. It's all 30-year-old stock."
The 'grotty' image was hiding the true story of today's sophisticated schemes according to Mr Jansons.
Mrs Thomas said:  "Everyone hears the word 'industrial' and looks back. No one is looking at the here and now and where it's evolving to – and it really has evolved."
Mr Jansons said: "The first thing I wrote down was 'sophisticated market, wide range of users'. That message isn't out there."
Density of employment, he suggested, might be a consideration.
Mr Burden promoted a report by Turley which presses the Government to make planning guidance more business friendly. Mr Lewis pointed to celebrated industrial employers such as BMW at Oxford and Mars at Slough but wanted more thought given to employment created by data centres.
He said: "Cloud computing is growing 18 per cent year-on-year so the jobs that are being provided are a very high quality which I don't think local authorities get their heads round. And they are very sustainable jobs.
"Certainly what we are seeing here in Slough is lots of data centres move in and now we are seeing their supply chain move it and create lots of employment, so it takes that slightly bigger picture thinking to be picking those future industries. And thinking 'if we back the right horses there's a bigger game to be played over a long time'."
One inspiring example made his point.
"One of the old companies on the trading estate, one of the ones that was unfortunately dying out as manufacturing changed, is now doing very well, supplying one-off bits for these guys as they are reconfiguring their data centres all the time. So it rejuvenated a little old engineering business."
But the step change in rental growth may be sending occupiers further afield than the Thames Valley. Mr Jansons said some were moving further out of West London – along the M40 and M4 corridors – than the Thames Valley. Was the region pricing itself out of the market?
Mrs Thomas said it was the ripple effect, She added: "I'm not convinced we are pricing people out of the market. I think people are making decisions based on business need and where they need to be."
Mr Dawtrey saw no pricing out of occupiers as they had little choice about where they could go.
He added: "I think rents have jumped massively in Reading and Slough and going into London, I only see that increasing until the availability of stock increases.
"Rents before recession were pretty steady for a long time and there was quite a lot of stock available as occupational agents were trying to draw occupiers to their own building.
"But now they just don't have that choice. Our (Vail Williams') occupational agents based in Thames Valley Park, are continually talking about how good the industrial market is for them and that they can let something very easily. But they have concerns about the amount of stock available because where's the next job going to come from?
"Until local authorities say 'you can build more industrial' I don't see that changing."
Rents said Mr Jansons will continue to rise and those costs, said Mrs Thomas, will end up with the consumer.
Identifying the future occupiers inevitably brought technology back to the debate.
Mr Blaza asked whether rapid housebuilding in Bicester, Abingdon and Didcot was preparing for the spread from Reading and Bracknell. Warehousing was emerging in Witney.
Mr Righton offered first hand experience of the direction of e-commerce. He said: "We do some work with Amazon outside the Thames Valley. Their strategy moving forward is to have smaller industrial units to fulfill demand and the speed of delivery they need to achieve. Some of those operations now are 24/7 which is changing the model a little bit."
And he reported a change in the quality of industrial developments generally.
"What we are hearing more about now is increased amenity space. Where historically you got your big sheds with five per cent office, that's changed a bit now and some of the end users are looking to enhance that space, so it's not just traditional bog standard space.
"They are looking at the wider piece of community areas and wellbeing, that kind of thing, to make it a more attractive proposition for people that are working there."
Mrs Thomas saw massive technological changes on the way but said it was difficult to plan for unknown, future, disruptive technologies.