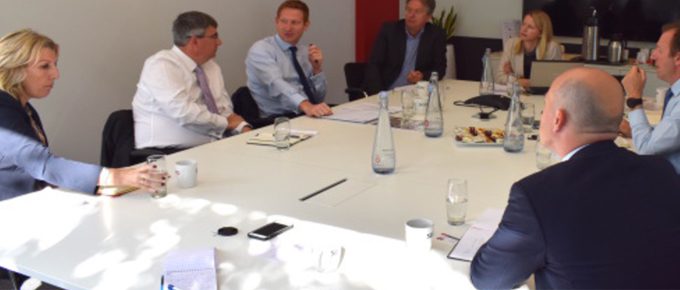 Delegates at our debate for the industrial sector pressed for a chance to put their concerns to councillors.
That was the conclusion at the end of a round table discussion organised by Thames Valley Property and held at the Slough headquarters of Segro on Tuesday, July 4. Here is the third part of our report.
On the panel were (clockwise from left in main image in part 1):
Karen Thomas, partner, national logistics and industrial, Cushman & Wakefield
Paul Lewis, regional director Thames Valley & data centres, Segro
Mike Righton, Thames Valley managing partner Rider Levett Bucknall
Hugh Blaza, managing partner, BrookStreet des Roches
Annette Smith, sector director of transport planning, Systra
Tim Burden, director, Turley
Matthew Battle, managing director, UK Property Forums (chair)
Andy Jansons, managing director, Jansons Property
Richard Dawtrey, partner, commercial property investment, Vail Williams
Mr Lewis felt one fundamental point had been overlooked in the debate over new technology.
"Land doesn't move," he said. "We are all demanding a greater level of service, shorter delivery windows on all of our parcels. Whether that's going to come from an Amazon delivery, Uber delivery, DPD or DHL or someone we've never heard of, whether it's going to come by drone, truck or driverless car, it's still got to come from somewhere to where we live. Those two bits we can all get our heads round.
"The bit in the middle, who does it and how they do it, I'm not sure is a problem for the property industry to solve."
The issue of Heathrow doubling its cargo throughput rang alarm bells for Mr Jansons. Does that, he asked, bring with it the possible need for doubling the necessary space?
And Mr Burden said it potentially goes even further. "It's not just business space. That alone could double the housing requirement so then you've got competing land use issues, what goes where? You've potentially got another 100,000 homes."
There was a broad consensus for those involved in employment uses to 'bang the drum' for the sector. Councils, including Windsor & Maidenhead, said Mr Burden, were not being challenged
He suggested the LEP should be involved. Local Plan examinations were 'always about housing, not employment', he argued. Green Belt releases were coming forward for housing but not employment, an issue close to the heart of Mr Jansons.
He said: "It would be interesting to have a local authority around the table to see what comments they made."
A local authority discussion appealed to most in the meeting although Mrs Smith suggested councils' own agendas might be their priority. And Mr Burden gave the example of Windsor & Maidenhead which is challenging Heathrow expansion so unlikely to support subsequent employment land.
The Royal Borough, he said, was in the same functional area for housing and employment as Slough, but the two weren't talking. Some authorities were competing but Mr Battle offered one possibility.
He said: "We could try to get some of these people round a table."