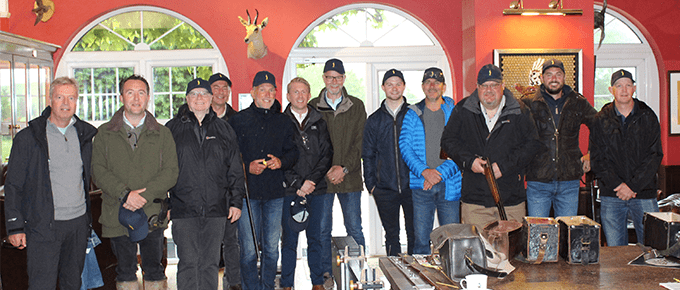 For the last shoot before the summer break, the Jansons team were joined by seven industry professionals at West London Shooting School. Not only did the morning provide a test to everyone's shooting ability, it also tested how effective their wet weather gear claimed to be. As the majority soon found out, their "wet weather gear" was far from waterproof and left some using this as an excuse for their below average scores.
The shooters enjoyed five different stands and as always, the morning ended with a Team Flush which was made a little more interesting due to the conditions. Nevertheless, Paul's team of Stephen Jeffery and Richard Curtis came out on top. This was arguably made easier for them after Ben's team managed to miss the bonus point clays! Top Gun was claimed by Richard McKenna who scored a strong 34/50. After the winners were then handed their Champagne, everyone proceeded to tuck into a well-deserved full English breakfast.
A big thank you to West London Shooting School for hosting us on this wet Friday morning and providing an outstanding service as always. Let's hope the weather is on our side for the last two shoots which are being held towards the end of the year!