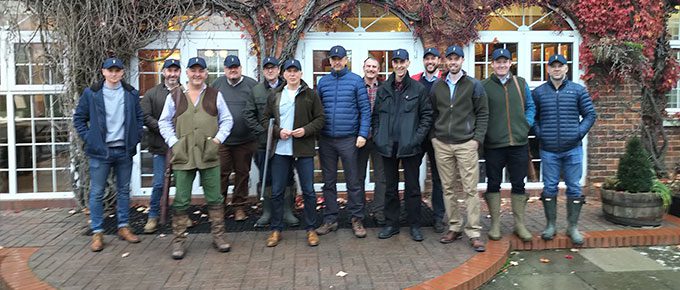 It's that time of year where it's becoming too wet, cold and dark to be heading out into the fields to partake in clay pigeon shooting. We have had some great weather this season on our shoot days, we have indeed been very lucky!! The team at The West London Shooting School are impressed!
For our last shoot of the season, all of the guests arrived and had coffee, and after a brief chat we were split into our 4 teams. Following this there was a quick safety check for the beginners. We then headed out to the patio for our traditional Jansons group photo.
The four different teams separated and headed off to the fields to discuss tactics – it was evident who had done this before and who hadn't. We had a first timer joining us on this clay pigeon shoot, Amy Jones from GL Hearn, who managed a score of 26, pretty impressive for a first shoot!
The winner on the day with the overall highest score was Russell Smith, who finished with a very impressive 43 points, with Nick Johnson a close second with 38 points. Well done to the winner, runner up, and also everyone who took part.
The overall winners on the day were Andy's team which included Mark Paynter and Amy Jones. The individual winner, Russell, was awarded a bottle of champagne, as were Mark and Amy who walked away with two half bottles of Champagne, great start to the weekend!!
A great morning's shooting was had by all; we are already planning our shoots for 2017!!
Keep up to date with what Jansons are up too by checking our blog.