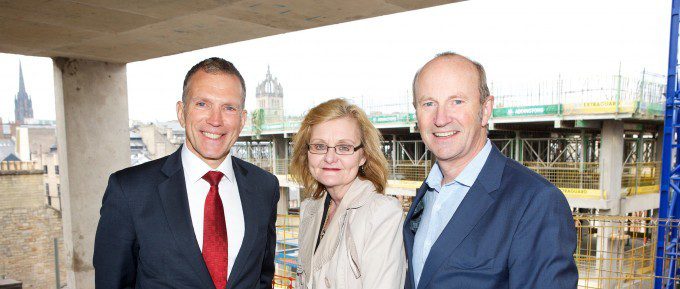 8th May, 2013, and a landmark was reached at the Soco development in Edinburgh – Topping Out. To mark the occasion, Jansons invited the great and good of the City of Edinburgh to attend a reception to celebrate.
Excellently organised by PPS Group, over 70 guests attended the ceremony. McAleer & Rushe did a great job in preparing the site for so many visitors, ensuring walkways were cleared and marked and work suspended so guests could access the 9th floor, where the ceremony was held, without having to don jackets and boots etc. It was fairly breezy at the top, but many intrepid guests braved the wind to admire the magnificent views from the roof. The TV crew set up and interviewed there too.
Andy made a brief introductory speech, with special mentions for John Shepherd, who spent many years bringing the project together, Hafid Mahoubi, the owner of La Belle Angele live music venue who has waited over 10 years to reopen his club, and the late Tom Buchanan,  who was Economic Development Convenor at Edinburgh City Council and a great believer in and helper of the project. We were very pleased that his widow, Evelyn, graciously agreed to perform the unveiling of the plaque.
After the unveiling, a reception was held at The Surgeon's Hall. Along with wine and canapés, the guests were well entertained by the comedian Fred MacAulay, who confessed to leaving the Soco site with a commemorative screw, hastily retrieved by Andy to keep for posterity.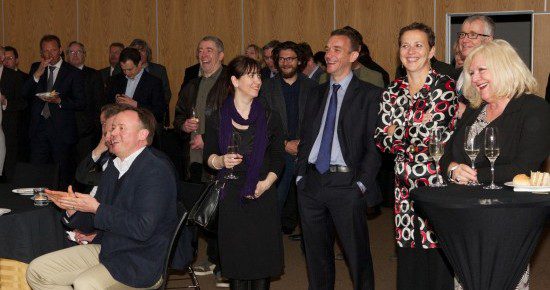 As well as being a celebration of reaching Topping Out, the event was an opportunity to make potential occupiers aware of the retail/ leisure units still available to let at Soco. If you would like more information, please click here to look at the Soco website, access the PDF brochure, view the fly through and get contact details, or just leave leave a message below.